Patient Newsletter
What Can We Learn About Dental Care from Plaque?
September 29th 2015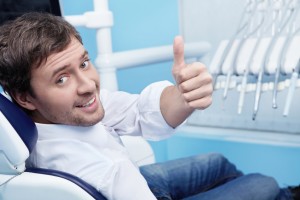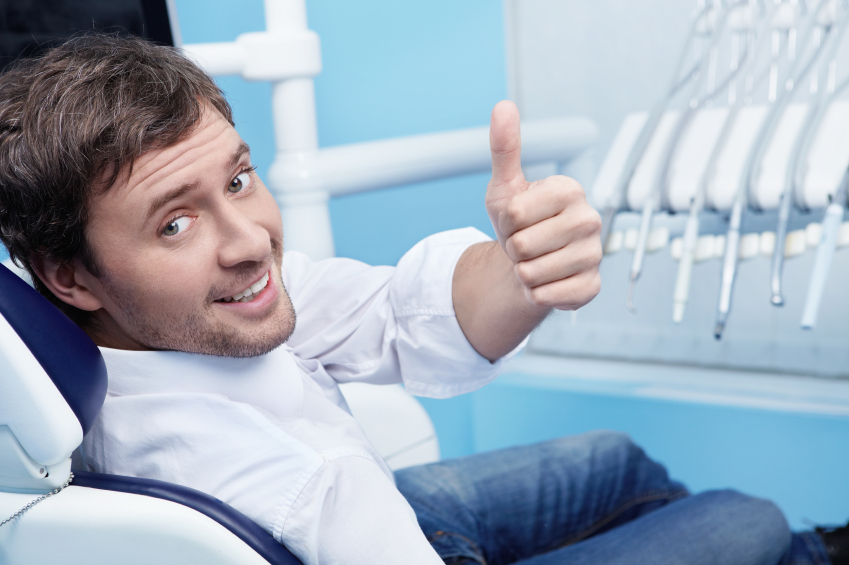 What many dentists know is that plaque is a biofilm, a combination of bacteria (500+ types), fungi, and protozoa, that mixes with nutrients from foods and drinks in the mouth to create a self-sustaining ecosystem. When plaque builds up near the gum line, it creates wounds that are the start of periodontal (gum) disease. What many dentists don't know is that there are lessons to be learned about dentistry from the vitality of biofilm colonies: treatment should be specialized, treatment should be multidisciplinary, and treatment should be ongoing.

Biofilm Communities Teach us About Individualized Care
Most of the historical treatment of gum disease and other bacterial infections has been based on viewing individual bacteria cultures, and treating with antibiotics. What this research and treatment fails to take into account is that free floating single bacteria lead to acute illnesses, but do not typically cause wounds and chronic infections. Bacteria that combine to form protective biofilms are the cause of tooth decay, gum disease, and other chronic illnesses. Plaque buildup in the mouth is one specific form of biofilm that creates wounds that lead to periodontal disease. When gum disease is treated with generic antibiotics not only is this treatment less effective, it can also be detrimental to health as bacteria build stronger resistance to antibiotics. The solution? Personalized treatment. As every biofilm is made up of a unique combination of bacteria and other materials, cases of periodontal infection should receive unique care to remove and prevent future plaque buildup. There should never be a one-size-fits-all approach to dental care, and that goes for plaque wounds and infections.
Periodontal Disease Provides Lessons on Multidisciplinarity
Plaque builds strong defensive systems because more than 500 types of bacteria work together to fortify and protect the colony. Each type of bacteria has its own defensive system, and the more types of bacteria work together, the harder they are to remove. Dentists could learn a lesson from this defensive system. It's time to break down the silos of medical care, and start working with dental specialist and other medical practitioners to better understand not just how to treat gum disease, but how to protect against it in the first place. Every field of dental and medical care has its own defenses against and treatments for infection, and there is much to be learned by sharing knowledge.
Treatment Changes & Community Building
Dr. Randy Wolcott, a wound care researcher, discovered that many patients treated for infection would relapse. Antibiotics or other therapies removed the initial disease, but did little to treat damaged tissue or prevent future infection. The future of periodontal therapy should take into consideration not only the removal of plaque and bacteria, but actually healing the wounds and preventing recontamination. Most patients who suffer from gum disease relapse numerous times necessitating additional treatment. With the dental community's shift in focus to preventive care, it makes sense to include treatments to prevent gum disease. Some of the many treatments that protect against future infection include: the application of liquid medications with dental trays worn at home, ozone therapy (shown to improve tissue healing and prevent future infection), and more traditional root planing.
Going Forward
The lessons learned from this surprising source are beneficial for any practice and any dental health concern. It's time to start taking into consideration unique needs, shared knowledge, and ongoing prevention every time we care for patients.
Do Nice Dentists Finish Last? – Do Dentists Have to be Cruel to be Kind?
August 19th 2015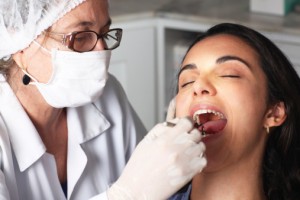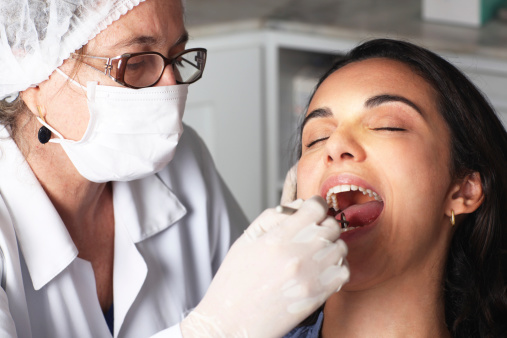 Ever heard the phrase, "you've gotta be cruel to be kind?" It has never been truer than when referring to gum disease treatments. Periodontal disease affects as much as 80% of US adults, but the way dental practitioners handle periodontal treatments may be part of the problem. Patients avoid periodontal treatment due to lack of treatment urgency, not fully understanding necessary treatments, and money. Many dentists hesitate to fully explain and recommend periodontal therapy because they fear patients will simply cancel appointments due to the added cost. Instead, dentists tend to try the "nice" approach – recommending periodontal appointments every three months but billing them as regular dental cleanings during six month checkups. However, by changing the focus of periodontal disease treatment to communicating clearly, emphasizing assessment and prevention, and working with patients to maximize insurance benefits, dentists can better equip patients to receive the dental care they need.

Say What You Mean – To Be Unclear is to be Unkind
Gum disease is caused by a buildup of plaque around or below the gum line. These plaque deposits harden into tartar which can irritate gum tissue leading to gingivitis. This is a mild form of gum disease that is easily treated at your regular dental checkups. However, left untreated, gingivitis can develop into periodontitis. This more advanced form of periodontal disease is detrimental to oral and whole body health.
To be clear: periodontal disease is dangerous! Studies have linked advanced gum disease to chronic and systemic illnesses such as cardiovascular disease, diabetes, and preterm or low weight births, it effects more than half of the US adult population, and is the leading cause of tooth loss. Not treating periodontal disease is not an option. There is good news about gum disease. It is 100% treatable and preventable, and your dentist is always here to help you do both.
Learned Behaviors – You Have to be Good to be Lucky
The best way to treat gum disease is avoid having it in the first place. With proper at home hygiene and regular, biennial dental visits, you'll be on your way to a healthy smile for life. At regular dental appointments, your dentist should screen for signs of periodontal disease, and make sure that plaque and tartar have been removed during your teeth cleaning.
If you do have advanced gum disease, you'll need more advanced treatment. Typically antibiotics are recommended in addition to scaling (removal of excessive tartar buildup below gum line) and root planing (smoothing of the root making it more difficult for plaque to attach to the tooth's surface). For the most severe cases, laser or surgical treatments may be necessary, and are typically performed by a periodontist.
Financial Preparedness – Your Smile is Worth its Weight in Gold
As the number of people with periodontal disease increases, more insurance providers are beginning to cover the appropriate treatment. However, make sure you speak with your dentist or the practice's financial coordinator about maximizing the benefits of your insurance coverage in order to obtain the necessary treatment. If your insurance doesn't cover the recommended care, talk to your dentist about alternatives that won't compromise your treatment, or consider working with a third part healthcare financier like CareCredit.
Periodontal Therapy – You're Only as Good as Your Last Shift
Gum disease is episodic. That means that patients can go years being asymptomatic before the disease comes back. Regular maintenance and assessment from a skilled dental practitioner twice a year is the only way to ensure your dental health for a lifetime.
Is Sedation Dentistry Right For You?
April 17th 2015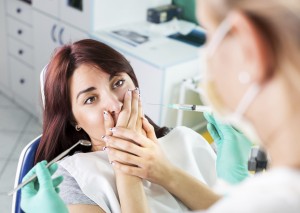 Did you know that over 70% of Americans have reported experiencing some level of fear or anxiety when faced with an upcoming appointment at their local dentist's office? These feelings are understandable, but they can also be dangerous for your oral health. After all, someone who dreads going to the dentist will put off needed appointments, allowing any problems they have to worsen to the point that they require even more time to fix. Thankfully, many practices now offer sedation dentistry, which can help patients relax and feel at ease during their appointment.
If the answer to any of the following questions is "yes," you may want to talk to your dentist about using sedation dentistry to increase your comfort level at your next visit:
Does the mere thought of visiting the dentist induce anxiousness, nervousness, or even terror?
Is it difficult for you to feel comfortable sitting still in a chair for a long period of time?
Do you have a sensitive gag reflex or constant jaw pain?
Do the sights, sounds, or smells of the dentist's office make you feel stressed?
Are you in need of multiple, lengthy procedures in order to restore your smile to full health?
Do you struggle with feeling ashamed of your teeth?
There are several kinds of sedation dentistry available for patients. Nitrous oxide (laughing gas) is the mildest type, inducing feelings of warmth and contentment that wear off quickly after the procedure is finished. More severe dental anxiety may be better treated with oral conscious sedation or IV sedation, which helps patients achieve such a deep level of relaxation that they often don't remember anything about their appointment. Please contact your local dentist to learn what kinds of sedation dentistry they offer and what they recommend for your unique situation.
Understanding Bruxism & TMJ Disorder: Find Relief from Nighttime Teeth Grinding
March 10th 2015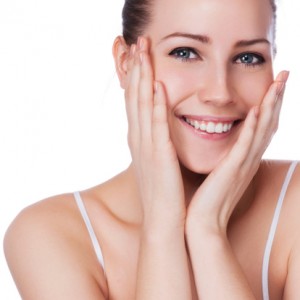 Do you often awaken in the morning to find that your jaw is sore or that your neck and shoulders feel tense? Perhaps you suffer from frequent headaches that tend to begin in the area surrounding your temples. These symptoms are common in individuals with nighttime teeth grinding and daily jaw clenching, or bruxism and temporomandibular joint disorder (TMD). Fortunately, treatment for these orofacial issues is typically non-invasive, affordable, and easily accessible at your dentist's office.
What Causes Jaw Clenching and Teeth Grinding?
There are a variety of reasons that people with TMD and bruxism engage in the unconscious behavior of teeth grinding and clenching. Malocclusion, or an improper bite, is a major factor, as is daily stress. While you are sleeping, you are not able to stop the overworked muscles in the jaw and face from overtaking themselves further, leading to numerous symptoms that can affect you all day.
For many, the primary complaint related to TMJ disorder is headache pain that interferes with daily functioning. The delicate joints that connect your lower jaw to your cranium can become irritated and inflamed, causing nerve pain that can even spread to your upper back. This can lead to posture problems that further exacerbate the issue. In cases of teeth grinding, the patient is typically unaware that their jaws are placing inordinate amounts of pressure on their teeth all night. Bruxism can cause tooth fractures and enamel erosion, both of which can prove to be serious problems if not treated in a timely manner.
Bruxism & TMJ Treatment
In the majority of cases, a nighttime mouthguard is used to prevent damage to the teeth caused by clenching and grinding. This custom oral appliance fits comfortably in your mouth as you sleep, helping position the jaws properly so that the muscles aren't unnecessarily strained. Patients who have been clenching their jaws for years are surprised to find that they experience relief from their discomfort in as few as one or two nights with their new appliance.
If you believe that you or someone in your family is suffering with the ill effects of TMJ disorder or bruxism, ask your dentist about a custom oral appliance. Relief could be a phone call away!
Here's Some Helpful Valentine's Day Dental Tips
February 13th 2015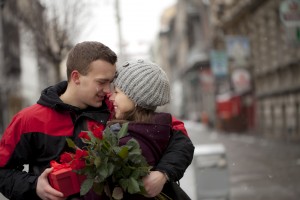 This Valentine's Day, you're probably looking forward to spending some quality time with your sweetheart, as well as indulging your sweet tooth with some yummy treats. Of course, it's important to remember to show your smile some love as well! Here are some helpful guidelines for avoiding decay and making sure your teeth truly shine when you step out on the town with your date:
While bad breath can be a common symptom of a great meal, it's probably not that appealing to the person you're sharing it with. Keep some floss in your pocket so that you can quickly get rid of food particles and pesky bacteria in the bathroom; then, pop in a mint to give your smile a fresh, appealing feel. If your bad breath persists even after the minty scent has worn off, though, that means it's time for a checkup with your local dentist.
Cross your fingers for chocolate on the big day! Solid chocolate (the ones without chewy or sugary centers) don't tend to stick to the teeth like more chewy treats too, making them better for your oral health. In fact, dark chocolate is an even better option, as it contains less sugar than milk chocolate!
It's best to avoid gummy candies, hard candies, and sticky caramels, if possible. These can be a nightmare for your teeth. Instead, why not give your loved one flowers, a card, or even a romantic dinner at home?
If you and your main squeeze just can't stay away from the candy, it's best to enjoy a few while our meal or just after it in order to keep from constantly exposing your teeth to sugar and harmful bacteria. Also, be sure to drink water and practice a good, thorough hygiene routine afterwards!
Looking to surprise your sweetheart? Teeth whitening may be just the gift your smile needs to look its very best! Your local dentist can use this common cosmetic dentistry method to erase stubborn stains and improve the color of your teeth by several shades.